Field Trips and Events
Scroll down to see them all!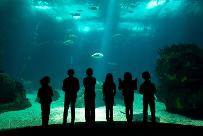 MAKE-UP Picture Day and SENIOR DETAILS for 2018/2019
Place: Holy Mountain Baptist Church, 3121 Ashley Street in Kingsport
When: Saturday, November 17
Time: 10 am until 2 pm
NO APPOINTMENT NEEDED. DROP BY AT YOUR CONVENIENCE.
Our photographer is Mike Bowling, who is a veteran at shooting school pictures. He will also take pictures of siblings together, along with parents- if desired.
There is no obligation to purchase pictures, but any pictures he takes of your child, your family, etc.will be put on a CD for only $15.00, if you would like to have those portraits.
There is a $2.00 sitting fee per person w/o purchasing a CD (with a Cap of $6.00 per family). There is a $1.00 sitting fee if you purchase a CD (with a Cap of $5.00 per family). Sitting fees are paid to the photographer. He's coming a long way to do this service for KACHEA.
If possible, when purchasing yearbooks or paying photographer, please bring CASH or 2 SEPARATE CHECKS. We pay them separately, not together.
ATTENTION PARENTS OF SENIORS:
If you have a senior who wants to be included in the yearbook, please email Lucy Roller so she can send you special instructions for make-up picture day and reserve an individual page for your senior. Seniors have the option for additional photos BY APPOINTMENT ONLY with Mike.
Any questions about yearbooks, picture day, or senior pictures please email or call
Lucy Roller, Liberty Yearbook Editor (kacheayearbook@gmail.com - (423) 534-5333)
ETCG (East Tennessee Cheer & Gymnastics)
Black Friday Sleepover
Date: November 23, beginning at 8 p.m. through November 24 at noon.
Cost: $45 per child; save $5 if you give ETCG a positive review on Facebook
Interested families can register by calling ETCG at 423.230.1400 or by emailing etcg1gym@gmail.com or visiting their office.
We would like to see how many homeschoolers would be interested in a homeschool float for the Christmas parade. We would also like to know if anyone would have a trailer/truck for such an endeavor.
For those who are interested, please contact Leslie Roller at 423-571-0552 soon. Thanks!
Date:
School performance - December 6th
Time:
(expected to be) -
10 a.m.
Location:
Toy Reid Eastman Employee Center
Cost:
Students and
Parent teachers are both free.
Other adults (grandparents and such) are
$5.
Details:
There are 25 seats reserved for KACHEA. Text Debbie Taylor at 423-429-1033
to make reservations
.
The Scripps National Spelling Bee - sponsored by KACHEA
KACHEA 2019 Spelling Bee



Place and time to be announced, but it is usually the second or third week in January.
Open from Kindergarten - 8th grade homeschooled students




For an email copy of the study lists please contact Patricia Dotson-

npdotson@aol.com




The KACHEA Spelling Bee will be held in two parts:




- Students in grades K-3* will compete together in a bee for younger students.

The K-3 bee word list will begin with words from the 1st grade study list and will gradually increase in difficulty.




- Students in grades 4-8 will compete in our official school bee. The official school bee word list includes words from the graded study lists and advances to words from Merriam-Webster Third New International Dictionary. The winner of this bee will be recognized as our school spelling champion and will advance to the News Sentinel Southern Appalachia Regional Spelling Bee (final local spelling bee) in Knoxville.




*3rd grade students may compete in either bee but not both.
We'LL have LOTS of field trips and family fun Planned this coming school year.
Check back OFTEN FOR UPDATES!
We love getting together as a group. If you have an idea for a field trip or fun activity but have never coordinated one before, simply contact the overall field trip coordinator, Debbie Taylor, for help and guidance in planning one.
To announce a field trip or family fun activity on the website and in the KACHEA newsletter, contact Rachel Underhill (rjunderhill@yahoo.com).